October 2016
30.10.2016 Dr. Radó András Memorial, Hungary
IVY Moon Eyes - 1st. prize, 255 points (best retrieving)
owner/quide: Mate David
30.10.2016 International Dog Show in Praha
judge: Daltrey Jonathan
MARGO Moon Eyes
- V1, CAC, res.CACIB
owner: Dominika Pilbauerova
29.10.2016 International Dog Show in Praha
judge: Frantisek Slimek
MARGO Moon Eyes
- V1, CAC,
CACIB,BOS
owner: Dominika Pilbauerova
MARGO Moon Eyes
just finished the way to became
International Champion of Beauty (C.I.B.)
8-9-10.2016 International Multilateral Competition, Nałęczów
MOJRA Moon Eyes
- 1st prize, 276/276 points,1/13 place,
CPC, CACIT
OMYK Moon Eyes
- 3rd prize, 238/276 points, 6/13 place
co-owner: Adam Grabik


8.10.2016 Regional Field Trials, Niepołomice
NOK Moon Eyes
- 1st prize, 9/10 points, 1/11 place,
Trialer, CPC
owner/quide: Piotr Kiszka
NOK Moon Eyes - just finished way to became polish Working Champion !!!
Huge congratulation and many thanks for Piotr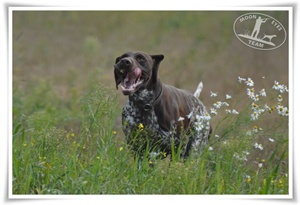 1.10.2016 International Multilateral Competition, Moletai in Lithuania
MOJRA Moon Eyes
- 1st prize, 264/264 points, 1/11 place,
CACT, CACIT


Niezmiernie jest mi miło podzielić się informacjami z Finlandii od Anity, właścicielki ORDON-a
ORDON Moon Eyes
9.10.2016 Test pracy na wodzie (klasa otwarta) 4/5 punktów
2.10.2016 Wystawa grupy 7, sędzia Linda Jurgens, ocena dosk. CQ,
CAC, BOB
25.09. 2016 Junkkari test - dyplom 3 stopnia
17.09.2016 - test pracy na ptactwie w lesie - dyplom 1 stopnia