9.10.2010 VI International Multilateral Competition in Nałęczów
On nice sunny weekend 9.10.2010 in Nałęczów-Poland was place
VI International Multilateral Competition for pointing dogs.

Most of competitors it was people from abroad - Lithuania and Ukraine.
Organization of competition was very good, on field was many pheasants and rabbits.
so everything was great to checked dogs at work.

Just on this competition HEDER Moon Eyes got her next

CACIT

!!!
She won with 1st prize, 259/264 points, 1/12 place

Nice surprise for me was the prize for guide :)
Weekend in SPA -Nałęczów :)
I think it is very nice for the end of competition's season
thanks Heder for this !!!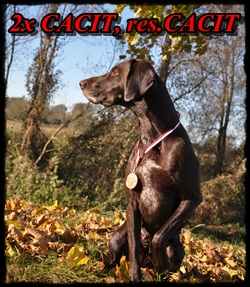 HEDER Moon Eyes won her firt International competition when she was 19 months old
then she finished in 2009 Polish working champion and became Interchampion of beauty.

year 2010 was for us succesfull !!!
First Heder got on Memorial Milana Novotneho /ruls like IKP/ res.CACIT
then we done succes on Memorial Karla Podhajskeho
/Versatile competition/ 1st prize, res.CACT
and at the end Hedi won Inter. Competition in Nałęczów and got next CACIT !!!!
I am so proud of my little Heder !!!




I invite you to look at short movie about us huge adventure at

Memoriale Karla Podhajskeho !!!