8.11.2009 International Dog Show in Poznań, HEDER Moon Eyes INTERCHAMPION (C.I.B.) and Champion of Working
The fist great information for us was letter with
diploma of Working Champion for HEDER Moon Eyes,
daughter our Inter.Ch. CZAGI z Czarnego Dworu and KS BASKO von der Zista.
It is for us unusual event because HEDER is only 2 years and 8 months old now!!
and she meneged to show us her great, special working abilities!!!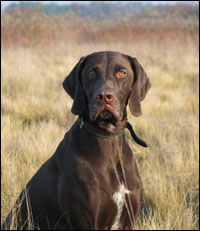 In the age of 13 months on the International Field Trial in Będzin HEDER got diploma with 1 degree and her first CACT
One week laterin Wilczyska she won Hunting Trials for Young Dogs with maximum points. Next competition was Memorial Milana Novotneho in Czech, where Heder got her next diploma with 1 degree, 133/136 points ( this competition is on ruls like IKP )


Then in October 2008, in the age of 19th months on the International Multilateral competition
HEDER Moon Eyes won competition with 1rd diploma, she got CACT and CACIT !!!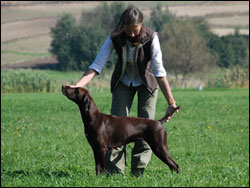 In September 2009 on the Regional Multilateral competition Heder won her third competition !!!! She got diploma with 1 degree 261/264 points, 1/11 place and next CACT

In this way HEDER Moon Eyes finished her Champion of Working.
This kind of Champion in Poland have really little group hunting dogs.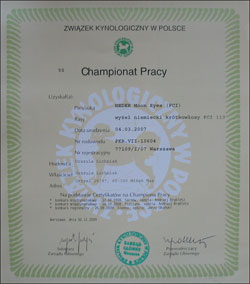 Kolejnym wyjątkowym wydarzeniem w Naszej Hodowli był fakt
otrzymania przez HEDER Moon Eyes kolejnego CACIB-a a tym samym Hederka poszła w ślady swojej mamy spełniając wymagania
do otrzymania tytułu Międzynarodowego Championa Piękności (C.I.B.)
Wydarzenie to miało miejsce 8 listopada 2009 na Wystawie Międzynarodowej w Poznaniu. HEDER Moon Eyes oceniana była przez Pana Josefa Jurse ze Słowacji.
Jest to dla mnie bardzo ważna ocena, gdyż Pan Jursa jest sędzią międzynarodowym eksterieru, pracy psów myśliwskich jak również hodowcą wyżłów niemieckich krótkowłosych.
HEDER got CAC, CACIB and title - winner of Poland 2009 !!!!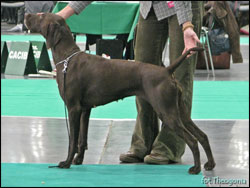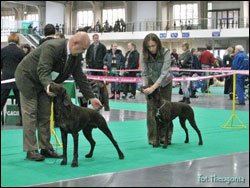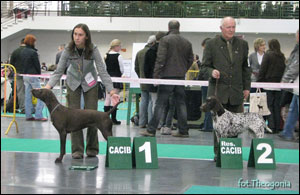 Zdjęcia z wystawy w Poznaniu dzięki uprzejmości Theogonia black.