"I" mooneyes dogs success
Moon Eyes's dogs from "I" litter finished 2 years
and we see day by day that our decision about used ORSON in our kennel was very good!!!

Just from this litter is IVY - Junior European Winner
IRA and INTI - Junior Club Winner
They shows us their very good hunting abielities at competitions in many countries ( Slovenia, Czech Republic, Poland)
More of them for this momnet have diplomas from hunting test with 1st prize !!!
IRA in this year got her first CACT from Field Trial,
and her sister ISHA just winner International Field Trial and got 10/10 points, TRIALER title, CACT and CACIT !!!!
ISOLA DEL SOGNI, INDI, IFE, IKA, INNES all of them have great homes where they teach, play and just are happy dogs

I want say THANKS YOU ALL for you love, patient and place in your heat which you give you dogs !!!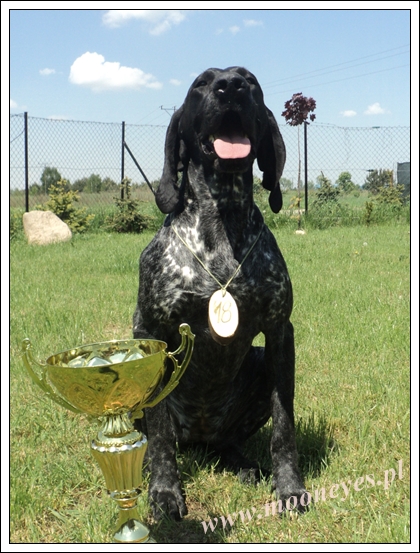 on photo ISHA Moon Eyes with her cup from International Field Trial

Huge congratulation and many thanks PIERYK !!!!